ATTENZIONE DI SEGUITO VIENE RACCONTATO IL FINALE DI The Stetchkov Syndicate. NON LEGGERLO SE NON L'AVETE FINITO.
SPOILER a cura del webmaster (24/10/2007)
Il finale di The Stetchkov Syndicate è praticamente nullo, dopo le 7 missioni e la cattura dei fratelli Stetchkov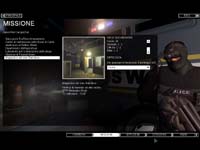 abbiamo solo i titoli di coda. D'altronde se la trama di SWAT 4 era nulla, qui è solo un contentino.