ATTENZIONE DI SEGUITO VIENE RACCONTATO IL FINALE DI PORTAL NON LEGGERLO SE NON L'AVETE FINITO.
Il testo della canzone finale di Portal, Still Alive, scritta da Jonathan Coulton!
This was a triumph! I'm making a note here: "HUGE SUCCESS!!"
It's hard to overstate my satisfaction.
Aperture Science; We do what we must, because we can.
For the good of all of us. Except the ones who are dead.
But there's no sense crying over every mistake. You just keep on trying till you run out of cake. And the science gets done, and you make a neat gun for the people who are still alive.
I'm not even angry... I'm being so sincere right now - Even though you broke my heart, and killed me.
And tore me to pieces. And threw every piece into a fire. As they burned it hurt because I was so happy for you!
Now, these points of data make a beautiful line. And we're out of BETA. We're releasing on time! So I'm GLaD, I got burned - Think of all the things we learned - for the people who are still alive.
(Go ahead and leave me...) (I think I'd prefer to stay inside...) (Maybe you'll find someone else to help you?) Maybe Black Mesa? That was a joke! HAHA!! FAT CHANCE!!
Anyway this cake is great! It's so delicious and moist!
Look at me; still talking when there's science to do! When I look out there, it makes me glad I'm not you.
I've experiments to run. There is research to be done, on the people who are still alive. And believe me I am still alive. I'm doing science and I'm still alive. I feel fantastic and I'm still alive. While you're dying I'll be still alive. And when you're dead I will be still alive.
Still alive.
Still alive.
Portal finisce con l'incontro con l'Intelligenza Artificiale chiamata GLaDOS che vi ha messo alla prova e che vi ha preso in giro per tutto il gioco. GLaDOS incomincia a perdere un pezzo, pezzo che dovete buttare nell'inceneritore (da aprire con un pulsante in una stenzetta).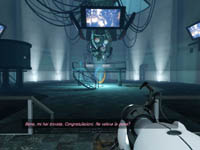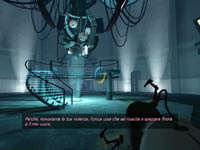 Usate i portali per andare dal pulsante nella stanzetta all'inceneritore, usate i portali per deviare i missili lanciati dall'I.A. a lei stessa, usate i portali per raggiungere i pezzi mancanti da gettare nell'inceneritore.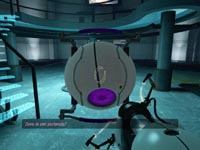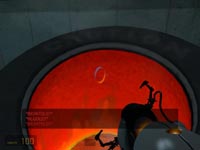 Alla fine tutto esploderà e vi ritroverete, per la prima volta, all'esterno fra le macerie.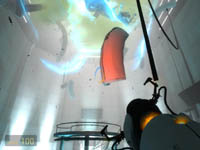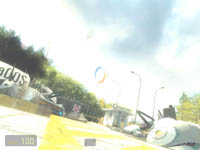 Alla fine, dopo una rapida carrellata nei cunicoli della struttura di ricerca, si vedono tante file di scaffali con gli occhi di GLaDOS attorno ad una torta di cioccolato e al Cubo di Compagnia. Un braccio robotico spegne la candelina accesa sopra la torta e si chiudono le luci, seguono i titoli di coda, in cui GLaDOS invia un rapporto conclusivo su Chell. Allora GLaDOS è ancora viva.