Payday: The Heist è un first-person shooter cooperative sviluppato dalla Overkill Software e rilasciato da Sony Online Entertainment. E' stato rilasciato via Steam per PC il 20 otobre 2011 (dopo averlo lanciato per PS3). Il gioco usa il Diesel game engine.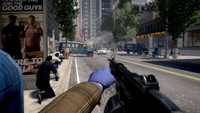 Lo scopo delle missioni cooperative è quello di rapinare le banche e portare via il denaro.
Un'idea originale che vi fa giocare dall'altra parte della barricata, quella dei cattivi.
Se vi piace emulare The Italian Job, questo è il gioco che fa per voi.
SCREENSHOT (21-10-2011)