SCREENSHOT (21/06/2008)
Code of Honor 2: Conspiracy Island è il seguito di Code of Honor: Foreign Legion. Questo gioco è ambientato nel Sudamerica a Guiana, dove una fazione terrorista del Fronte Rivoluzionario Globale vuole impossessarsi di un reattore nucleare. Ora tocca mettere in azione la Legione straniera!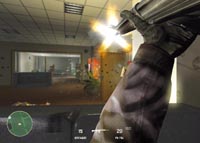 In nove missioni potremo usare il JupiterEX Engine per avere una grafica teoricamente buona con la possibilità di per sparare da dietro ai muri o attraverso le pareti sottili.
Infine avremo due finali distinti (doppio spoiler in arrivo).